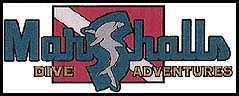 Marshalls Dive Adventures
Partners with Robert Reimers Enterprises

The Premier, first-class dive operation operating in the Marshall Islands. With PADI Divemasters on staff, we offer a service that is second-to-none in Micronesia. Offering basic introductory and advanced Scuba courses, Marshalls Dive Adventures is on the cutting edge of dive education and training.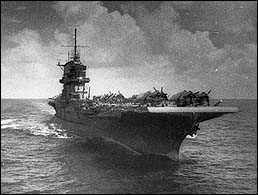 BIKINI ATOLL DIVING [pricing information and travel details]
Now open to divers for the first time in history, Bikini is the ULTIMATE dive destination. If you aren't familiar with the name...you will be. A fleet of the most significant ships of World War II are now an underwater playground for advanced divers. Marshalls Dive Adventures offers special dive packages to Bikini.

The capital of the Marshalls is also the home to Marshalls Dive Adventures and your gateway to some truly adventurous diving. In Majuro, we operate a PRO 42 Custom Dive Boat with Twin 300 hp Caterpillars, low draft, Camera Table, large dive deck and diver platform which makes us one of the premier operations in the Pacific. Forget slow cattle boats and rickety outrigger canoes, our operation is designed and operated by divers FOR divers. For the start of your "Marshalls Dive Adventures," Majuro offers some world class diving, 84 degree Fahrenheit water, 100 foot+ visibility, drop-offs, wrecks, virgin reefs and big marine life (sharks aplenty!). Delap Point and Kalalin Channel are two of the dive sites you will remember for life!

ARNO ATOLL DIVING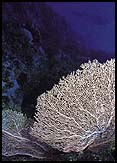 A short ride from Majuro takes you to what we call "CONGO COUNTRY." Arno is the closest atoll to Majuro, yet is one of the least charted by divers. First-class sites are encountered every time we visit -- the number of fish, reef, and pelagis are unbelievable!

MILI ATOLL DIVING

Via a 20 minute flight from Majuro - Mili, previously only a place you read about in adventure stories, offers some of the world's best diving. Landing on Mili, a tour around the WWII relics gives you a taste of a remote outer island during the war. Untouched by development since this time, Mili is still one of the most pristine coral atolls in the world.
ECO-TOURISM Our eco-resort on Wau, a remote tiny island on the far side of the atoll, is home to our clam farm which breeds giant clams for the aquarium market. Staying in beach side cottages and diving with the sharks at the North East Passage or the giant sea fans at Reihers Pass, will let you forget about phones and fax machines and allow you to just be at one with Nature.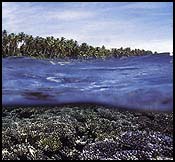 HOW DO I GET THERE?
From Honolulu, Continental Micronesia flies two times a week with their Island Hopper service, which starts in Honolulu, ends in Guam and then returns to Honolulu along the same route. Why not plan a Micronesian tour with the Marshalls as your first stop?

WHAT SHOULD I BRING?
Dive gear, although rental gear is available. Dress is casual although local custom dictates ladies must have their knees covered. The U.S. dollar is the standard currency. U.S. citizens need only a passport ( no visa). The average temperature is 82 degrees Fahrenheit, so t-shirts and shorts are derigeur.

WHEN SHOULD I COME?
The summer months (May-September) are generally the warmest and when the seas are
at their calmest. The winter months, although breezier, remain warm and comfortable with water temperature remaining in the 80-degree range.

WHERE SHOULD I STAY?
Hotel Robert Reimers is conveniently located on the Majuro lagoon adjacent to Marshalls Dive Adventures dive shop and dock. Across the street or within a short walking distance you will find the post office, banks, Continental Micronesia reservation desk, shops, restaurants and the Alele Museum. Hotel Robert Reimers offers clean, comfortable, air conditioned rooms with live cable television and 24 hour power and water. Hotel reservations can be made through Marshalls Dive Adventures when you book your dive tours, and through the internet.
For information on wholesalers that sell our package, please go to our Tour Wholesalers page.
For the latest information, please send email to:
Ms. Jessica Reimers
jessicareimers@rreinc.com

From Japan please contact:
Mr. Satoshi Yoshii [Divemaster]
marshall@ntamar.net

A Short Biography of Robert Reimers, founder of Robert Reimers Enterprises, Inc.
[Home] [Atoll Anglers] [Marshalls Dive Adventures]
[RRE Hotel] [Mariculture] [Handicrafts of the Marshalls]
[Retail Stores and Investments] [Tour Wholesalers]
[News] [Links]
[Contact Information]