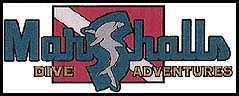 MAJURO ATOLL DIVING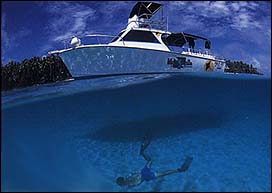 The home base of Marshalls Dive Adventures offers some great diving for those first visitors to Micronesia. As an introduction to the Marshalls, the capital is an excellent start for some world class diving.
Located approximately 2,600 miles southwest of Hawaii, Majuro Atoll is the capital of the Marshall Islands and in so being is well developed by Micronesian standards. Many facilities typically found in any western society: restaurants, supermarkets and several hotels are available. Diving here is in its infancy and many dive sites are as yet undiscovered. The most popular spots are still untouched and free from diver damage. A recent visit from a professional underwater photographer openly admitted that DElap Point, one of our dive sites, is a world class site with the biggest school of Jacks he had ever seen (a regular sight!)
Unlike Palau or Fiji, the Marshalls have a vast array of hard corals and a smaller amount of soft corals. Sharks are seen on every dive, the most common being the Reef Whitetip, Grey Reef and Black Tip. Ocean side dives are home to the Pelagics, Whalesharks, Pilot Whales, Hump-backs and Sperm Whales. The big family of sharks sighted has included Galapagos, Silky and Oceanic White Tip.
Marshalls Dive Adventures is home to Majuro's only first class dive service. Our Pro 42 custom dive boat can get you to the dive site in the fastest time possible. On board we offer tank racks which enable you to easily set up your gear, fresh and salt water showers, a professionally designed camera table, rinse tank, high fly-bridge (for taking some great shots of dolphins) and marine head. A large swim platform and easy to climb dive ladder as well as a large undercover deck area are additional amenities.
Our dockside facility has PADI and NAUI instructors and offers courses from resort and open water to Divemaster and specialties. We are an authorized Scuba-pro dealer and we sell and service all their latest products. Gear storage is available at the facility as well as a large freshwater rinse tank. Our aim is to provide the maximum in diver service.
Majuro dive rates :
2 tank boat dive $90 incl.Tanks and weights
1 tank boat dive $50 incl.Tanks and weights
Instruction rates upon request
Stay at the Hotel Robert Reimers and receive a 10% discount off the above rates.
For information on wholesalers that sell our package, please go to our Tour Wholesalers page.
For the latest information, please send email to:
rreadmin@ntamar.net
From Japan please contact:
Mr. Satoshi Yoshii [Divemaster]
marshall@ntamar.net

Back to the Marshalls Dive Adventures page.

Bikini Atoll, We also offer dive packages to Mili, Arno, and Majuro atolls.

[Home] [Atoll Anglers] [Marshalls Dive Adventures]
[RRE Hotel] [Mariculture] [Handicrafts of the Marshalls]
[Retail Stores and Investments] [Tour Wholesalers]
[News] [Links]
[Contact Information]