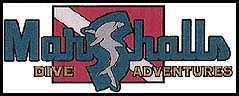 MILI ATOLL DIVING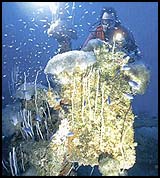 A short flight from Majuro takes you to Mili, one of the less visited atolls and one of the most virgin dives areas in the world
Our dive boat meets you at the end of the runway on Mili Island and then we immediately proceed to the first dive site, an old WWII wreck. We then move on to Wau Island which will be your "Swiss Family Robinson" home for the next few days.
Accomodation on Wau (your own private Island that takes 10 minutes to walk around!) consists of 7 newly built thatched huts with ceiling fans, toilets, wash basins and showers. Each cabin has its own porch and beach area and is well separated from the others allowing complete privacy. The sound of the ocean and nature are your ideal companions for your first night of sleep on a paradise island.
Breakfast is served by our resident chef in our communal video / library eating area and then why not take an early morning snorkel around the Giant Clams at the company hatchery. Next we depart for a day of diving starting at either the Sea Fan Garden (where we challenge you to count the sea fans) or Reiher Pass which often includes shark and pelagic encounters, huge schools of Jacks and Giant Napoleon Wrasse. With a snack lunch on board we later return to Wau where you may relax on the beach, take some amazing photos or do a quick shore dive before dinner.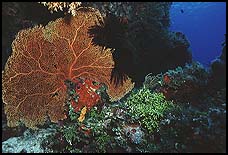 Mili is a fantastic look at an "Outer Island" and has some of the most incredible pristine dive spots on earth. We think you'll love it!
Mili Atoll Package:
Call for pricing on various packages
(Note: Mili is a remote outer atoll where the best diving is found from
April through November when the seas are at their calmest.)

[photo©Matt Harris]
For information on wholesalers that sell our package, please go to our Tour Wholesalers page.
For the latest information, please send email to:
rreadmin@ntamar.net
From Japan please contact:
Mr. Satoshi Yoshii [Divemaster]
marshall@ntamar.net

Back to the Marshalls Dive Adventures page.

We also offer dive packages to Bikini , Arno, and Majuro atolls.

[Home] [Atoll Anglers] [Marshalls Dive Adventures]
[RRE Hotel] [Mariculture] [Handicrafts of the Marshalls]
[Retail Stores and Investments] [Tour Wholesalers]
[News] [Links]
[Contact Information]